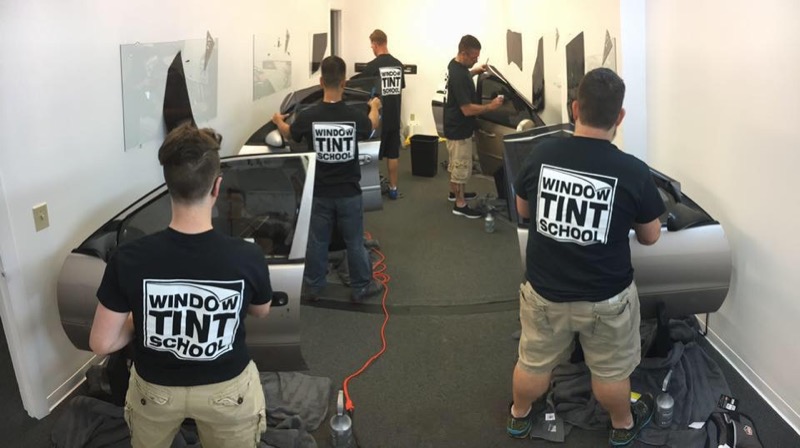 The Window Tint School in Jacksonville, Florida, specializes in hands-on window tint training. Window tinting is an increasingly important category in a mobile enhancement retailer's portfolio of services. These days, finding a proficient window tint installer is harder than finding a 10mm socket when doing a Honda engine swap. That's why we created the Window Tint School.
Hands-On Window Tint Training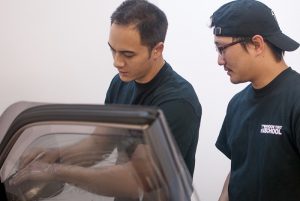 The key factor in our approach is our ability to transform someone interested in tinting into a professional in short order. We use a hands-on approach to training. Our school is equipped with five classrooms, each with dedicated, real-world workstations that let our students get their hands dirty (clean?) right away.
Our instruction team watches over every student. Each instructor brings his own experience and approach to film installation. Because people are different heights, have different statures and have different reaches, there isn't a single method that works for everyone. Some will cut film left to right in one situation; others will cut right to left. Our instructors ensure the finished product is accurate and efficient every time. More importantly, if you are doing something wrong, we correct it right away. There is no point in practicing how to do something incorrectly. We all know how hard it is to break bad habits.
Can't I Just Watch a Video?
You certainly can. Videos and online training provide a lot of theory about how to prepare and apply the film. Where the Window Tint School excels is our ability to watch and respond to each and every action you take. If you attend our school, we break out roll after roll of film and let you master the technique, not just the theory. We will ensure you are holding the knife or squeegee properly. We make sure you slide the film in the right direction to ensure no contaminants will get under the film. Nothing is left to chance or interpretation – we make sure you do it right the first time.
Do you Remember Your First time?
Think about your first time… with a special friend. That's right, we are talking about coitus, copulation, carnal knowledge or having relations. Were you Ron Jeremy or John Holmes, or was it a scene from American Pie? Did you wish you had more experience? Imagine if you had spent a week with Nikki Benz, having her show you exactly what to do! Would the results be different? Hey, we don't know for sure…maybe you are a natural and don't need training. For most people, learning from an expert is the best way to perfect their craft.
OK, here's a different scenario: Do you think a surgeon gets to practice on live people? Surgeons practice on cadavers. Then they spend about five years as a resident after graduating. They assist a veteran and learn their craft slowly and methodically. It's doesn't take five years, or even five months to learn how to tint. Our hands-on window tint training gives our students the training and technique to have them tinting client vehicles proficiently in a week.
You've Got My Attention, Tell me More!
We start you off with a set of tools that you will take home with you. We watch what you do and how you do it, and correct your technique and approach in real time. If you are holding the knife wrong or swiping the film the wrong way, we let you know and help you do it right. Window tinting isn't just about the net result, it's about efficiency and therefore, profitability. Our students learn how to do it right and safe time.
Materials – Lots and Lots of Materials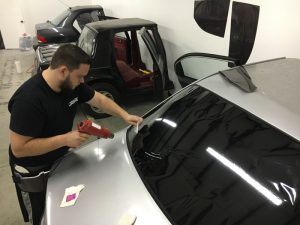 Ok, this is a big one. We let you use as much window film as you need to master your technique. If you crease the film or cut it too short, no worries, go slice off another piece and try again. We have all the different films types in stock: dyed, carbon and ceramic. Each film has its own characteristics and requires a slightly different approach. For example, ceramic film shrinks differently than dyed film. Practicing with ceramic film can be very expensive.
You will tint easy, moderate and downright annoying windows from real cars. We've got car doors, hatches and the back-half of a few cars in the school! You learn how to maneuver yourself and your materials in real-world situations to ensure the film is flawless and clean every time. Cut it, shrink it, then install it. Then rip it off and start all over again. Practice makes perfect, right?
The Real Cost of Learning to Tint
We all have different budgets, and we certainly won't tell anyone how or where to spend their money. We can, however, provide some insight into the net cost of learning to tint windows. We offer a three- and five-day programs ranging from $1500 to $2500. That's not chump change!
Besides the tools, T-shirts and getting to spend a week enjoying catered lunches with Jon, you are going to go through a LOT of window tint. We estimate that the average student uses $1300-$1600 dollars worth of film during the week-long class. Those epic lunches alone would cost over $100 at a local restaurant. Subtract the cost of the tools and materials from the total cost of the course, and you can see that the price is actually quite reasonable.
Don't fret, we have set up a great deal with a local hotel and we are close to JAX airport. An Uber ride from there to the school is less than $10.
If you are going to watch videos or attend a seminar, will you or your employer buy several rolls of dyed, carbon and ceramic film in different-sized rolls of film for you to practice with? Don't think so. You need hands-on experience learning how dyed, carbon and ceramic films feel and behave when you work with them.
Take this important fact into account when considering the cost of our school. If you are determined that you can teach yourself to tint, what are you going to practice on? Once you have tinted your car, all your co-worker's cars, and a few friend's vehicles is it time to practice on a client's car or truck? We don't think so. You'll do more than twice that much tinting in a single week here at the school. In fact, within an hour, you'll be burning through window film like it's a chicken wing eating contest. And yes, chicken is on the lunch menu!
We'll teach you about the business side of the industry as well: Why we use premium films. How to compete with that $99 tint place down the street. How to show customers the benefits of premium films. We have an ongoing support forum for our program alumni they can access after the class is done. We even send you off into the wild with homework that will continue to improve your skills.
Oh, and don't forget those lunches with Jon – that alone is worth the price of admission! At least, that's what his wife tells us.
Challenges Make You Better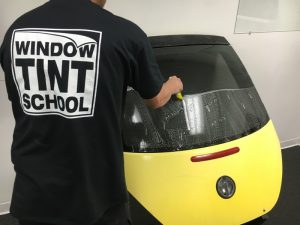 Think you are on your game? We have the tough stuff too! How about that monster rear window from a Crown Victoria? Are you ready to manage almost 10 feet of tint that needs to be shrunk before you apply it? Speaking of shrinking, we have the rear hatch from the 1998 to 2011 body style Volkswagen Beetle just waiting for you! The techniques and processes required to tint these windows are no different than any other window, you just need to take your time. We'll show you how to do that.
Learn to Tint the Right Way
We don't want to come across sounding like Billy Mays and certainly not Vince Shlomi, but facts are facts. If you want to learn the right way to tint vehicles to make yourself and your company more profitable in short order, hands-on window tint training is the only way. Imagine how different Jim Levenstein's (American Pie) reputation would have been with the proper preparation…He wouldn't have blown it! Don't blow a great career path either. Give the Window Tint School a call at 904-297-TINT (8468) or send us an e-mail to find out when the next class is available. You'll learn why we can do it better in 5% (or better in the dark)!