Here are the answers to some of our most popular questions. Feel free to contact us HERE about any questions not covered in the FAQ.
– What are the class dates?
CLASS IS IN SESSION EVERY MONTH! (Class hours are Monday-Friday 9:30am-4:30pm). Upcoming class dates are the week of DECEMBER 11, 2023, January 15, 2024, and February 19, 2024. To register, simply tap the register button in the menu above or give us a call 904-297-TINT.
In addition to our standard Core classes, we also offer Pro, Graduate, and Corporate Classes. They are held 1-2 times each month throughout the year. Give us a call 904-297-TINT for details, so we can put you in the appropriate class.
– Can I really learn to tint in three days?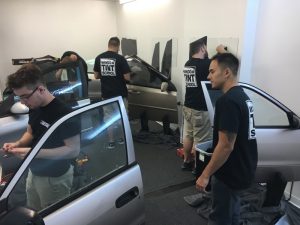 Yes! Absolutely. We have a very systematic approach to teaching how to tint. All of the basics and foundations of how to tint can be learned in our three days of intense training. We train on many different style windows to give you the knowledge needed to properly cut, prepare the glass and apply window tint. We have a very rigorous hands-on approach with repetitiveness that will pound the skills into your head. We also assign you a simple and effective homework program that will keep you on your toes and help you gain experience every day.
– I don't have any tools – what do I need?
Tuition includes a basic set of tint tools for each student to use while here at our facility and then bring home.
– I've been tinting for 10 years – would I learn anything?
Absolutely!
There's always something new to learn, especially because we've worked side by side with many different window tinters throughout the years, and have noticed that styles and methods vary from tinter to tinter. We love working with seasoned tinters in our three-day Boot Camp as new tricks and techniques are shared by both parties. Throughout our many years of working with hundreds of tinters, we've been able to take the best techniques from each of them and bundle them together to create an amazing system for cleanliness, efficiency, and productivity!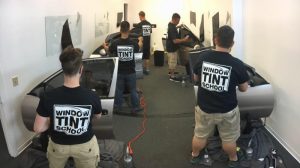 Our second three-day class is called our Money-Maker Class: This one is a must, even if you've been tinting for 100 years. You will learn upsell techniques that create new business opportunities, how to be more efficient with flat glass and how to add vinyl graphics as a category to your business. You will learn our secret technique for getting almost every customer to upgrade in automotive and flat-glass jobs, as well as tactics to help close flat-glass estimates. You will learn to maximize each and every vehicle for more profit. We will teach you how to compete against the $99 tint guys, how to maximize your profits on flat-glass jobs and how to close more flat-glass jobs. This class will pay for itself over and over again and increase your profits.
– I'd like to send an employee and I would like them to learn specific things, not necessarily following your curriculum.
We can do that!  We offer an "a la carte" menu and we can customize any class to your needs.  Contact us and we'd be glad to design a custom class for you.
– Do you teach Commercial and Residential flat glass?
Yes, in the Money-Maker Class, we will teach you not only about flat-glass films, but flat-glass installation as well. This is a highly profitable category in which you can easily make well over $150 per hour.
– I see you also teach the basics in Vinyl Graphics– what does this have to do with window tinting?
Vinyl graphics are an excellent category that goes hand-and-hand with window tinting. Many commercial businesses have their windows tinted and would like the same company to do vinyl graphics. This is an extremely profitable category to complement window tint. For example, an $800 commercial graphic job on a truck or car that takes less than a full day will only cost you $40 in material. Huge profits! Plus, you'll be able to make your own storefront graphics and save money by doing them yourself.
Another opportunity is to make custom stickers for vehicles while tinting them. You can make a small display for customers to view, and they're likely to ask about windshield banners, sports graphics, vehicle graphics and RIP stickers. You can also add your logo to customers' vehicles while in your shop for added brand awareness.
We teach logo digitizing, layered applications, layouts and differences in vinyl, and information about vinyl graphics distributors to purchase vinyl and sign supplies. If you already have a plotter, why not add vinyl graphics to increase your revenue?
– What brand films do you use?
We are a brand neutral facility and teach how to tint windows using all leading brands on the market today and can cater to a class's specific needs. We choose a wide variety of high-quality Ceramic, Nano-Ceramic and Carbon films from multiple manufacturers so our students gain experience with them all. All trainings are focused on using premium films, not inexpensive, flimsy, single-ply dyed films.  We do not use "Junk Film" or bad roll run offs. Manufacture-specific classes can be arranged so a manufacture can hold a class using their films for training.
– Will we be training on the most difficult cars, such as the VW Bug, Cutlass Supreme or Saturn SL?
No, because the difference between an easy car and a hard car is time. Since time is of the essence, we focus on teaching you the skills to tint anything. We believe the time should be spent on techniques, tips and tricks for the 99% of vehicles you will see on a daily basis. Also, our technical support database page of our website will discuss the methods that are used to tint difficult vehicles just in case one of them were to come into your shop.
– How will this school increase my business?
Time is money, and you will leave knowing how to work faster and more efficiently. You will get more jobs done each day, and customers will be happier as they will get in and out faster. You will have less waste and improve the quality of your work. All of this will keep customers coming back, helping you build a larger customer base. You will also learn proven upgrading techniques to close more jobs, which means more customers and more profits. (Also see answers from the "I've been tinting 10 years" FAQ.)
– Where should I stay?
One added bonus of being a student is we are only an exit or so away from JAX Airport. Because of this, hotel options are vast. If you are looking for the closest, that would be WoodSpring Suites Jacksonville North, which has suites that each include a stove, microwave, refrigerator, and freezer. They offer rooms with 1 and 2 beds. With the in-room kitchen and close proximity of supermarkets and a SAM's Club, you will lower your costs of food by being able to cook in the room vs, going out and eating expensive meals every morning and night. Lunch is included with the classes. The hotel is located less than a quarter-mile from the school, so it is an easy walk if you do not have a car.
The hotel is:
Extended Stay America Select Suites – Jacksonville – North, 10520 Balmoral Circle West Jacksonville, FL 32218; www.extendedstayamerica.com; 904-696-0615
– Transportation?
With students flying in and out at different dates and times, it makes sense to have students get to the hotel on their own timelines. The airport is less than seven miles away and just a $20 cab or Uber ride away.
– Are lunches provided?
Yes! We believe that your time at the school should be maximized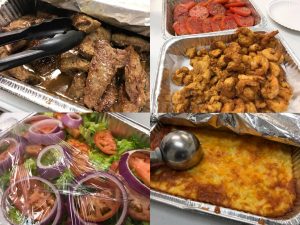 for learning, so we provide catered lunches for all the students. We provide some excellent lunches! No need to worry about lunch.
– What time are the classes?
Our classes are held from 9:30 a.m. to 4:30 p.m.
– Do we get continued support?
Yes, absolutely! We have a technical support database on our website that will help with techniques. We will also be available if you have any questions or need help with particular techniques.  We will also add you to our private, Alumni Only, Facebook group. This connects graduates with other students and our instructors where you can ask any question. This has been proven to be VERY helpful for all.
– What is the closest airport to you?
You will be flying into Jacksonville International Airport. The IATA airport code is "JAX."
– Will I receive a certificate of completion?
Yes, upon learning our techniques and completing the school, you will receive one official Window Tint School certificate for the 3 Day class and an additional one for the 5 Day class (2 in total for the 5 Day students). Graduates will also receive a full 1 year membership to the IWFA (International Window Film Association) and access to their accreditation testing.
– How long will it take to get good at tinting? What's the learning curve?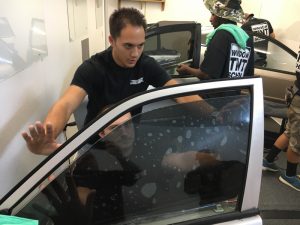 When you leave the school, you will have gained the knowledge to properly tint a vehicle, as well as apply the film with a clean installation. You will gain the techniques to tint any window. Speed is what will come with time and experience. With most cars, working at a steady (not fast) rate, most experienced window tinters average an hour and a half per vehicle. When you will average a vehicle in an hour and a half depends on how many vehicles you tint per week. We will teach you the necessary skill set to help you achieve that goal over time.
– What's the guarantee for schooling?
We guarantee that you will learn the foundation and processes needed to cut, shrink and properly apply window tint, as well as leave with a clear understanding of window film.
– Do you have a placement program?
We sure do! We have a long-running list of businesses that are hiring window tinters in just about every state in the country. Do you own a window tinting business? Do you need help? We encourage you to reach out to us.
– After I complete the Window Tint School, how can I further improve my skills?
This is a very good question! Each student leaves with homework. The more you do, the better you become. The assignments can be done every day and will help you improve the quality and speed of your window tinting. We also offer Graduate Classes that will provide you with a one-on-one training experience for further education.