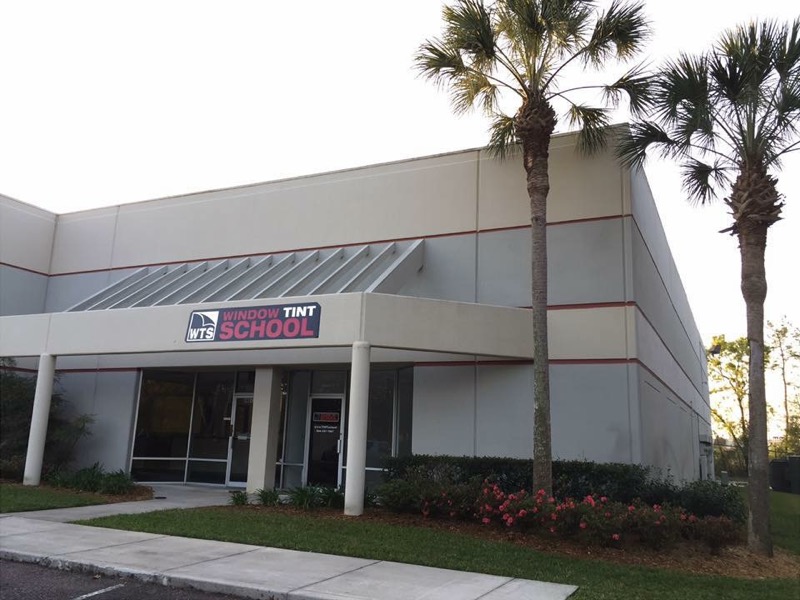 Window Tint School in Jacksonville, Florida, is the first school in the United States dedicated to training and educating window film installers. Up to this point, the most popular method of training was in-house, where the trainer came to your facility. While this type of training is convenient, the quality of training done at a school dedicated to this topic is vastly superior.
Here are several reasons to come to our facility in Florida to either learn the art of window tinting or improve your efficiency.
Challenging Doors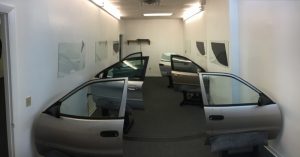 We have carefully chosen specific doors that progressively become harder to work on to help students learn. If we came to you for in-house training, we would have no control of what vehicle comes into your shop each day.
Reduced Distractions
You will be out of the retail area, meaning no distractions. This allows everyone to focus better, and there isn't any stress of finishing a car quickly because the customer may be waiting.
Individual Stations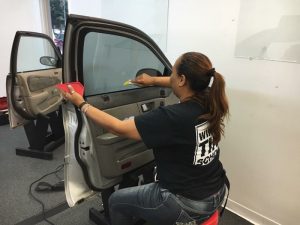 We have individual stations for each student, so there is no need for everyone to be huddled up around one vehicle and you can see everything clearly.
Air Conditioned
There is full A/C in all of our dedicated rooms, and our bay is also air-conditioned. You will learn more effectively when you are not all hot and sweaty.
Variety Of Windows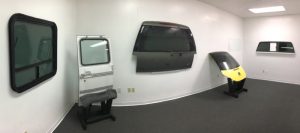 Window Tint School has all types of windows for you to train on: front doors, rear doors, quarter windows, SUV back windows, van gasketed windows, rear truck slider windows and front windshields.  Having all these styles of windows ensures that you will learn every type of window-film cutting technique available. There is no way all these windows could come to you for in-house training.
Challenging Back Windows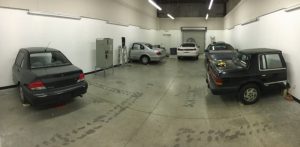 We have carefully selected our back windows, from easy all the way up to the complexity of a VW Bug. This allows for progression as the student learns.
Tint Included
Window tint is included in the price of tuition. If you were doing an in-house training, you would have to provide your own tint. This benefit alone will save you several hundred dollars.
Classrooms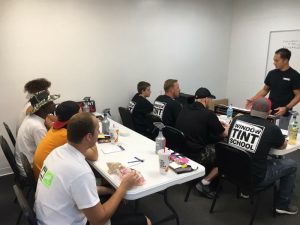 Window Tint School has an actual sit-down classroom for learning and education. This type of environment allows people to learn faster and retain their knowledge better.
Refresher Courses
You can get a break from your day-to-day grind with a refresher course.
Collaborative Learning
With experienced tinters coming to our school to learn new tricks, you have a good chance of learning even more, since each tinter has specific techniques that can aid our class.
Experienced Teachers
Throughout the majority of the class, we have three teachers who will educate you, giving you more knowledge.
Personal Attention
The ratio of students to teachers is lower, resulting in more personal attention.
Structured Curriculum
We have a very structured curriculum that is proven to work.
Numerous Tools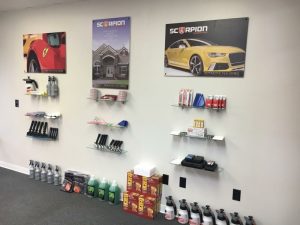 We have lots of tint tools are on display, which helps students get familiar with them and their intended uses.
Free Lunch
We provide lunches, free of charge!
Concierge Service
We set up all the accommodations for you and include transportation from the hotel to the school and back every day.
Student Tools
All the necessary tools to tint a vehicle properly are included with your tuition.
Florida-Based Teachers
You will learn from Florida tinters, where window tint is a huge business. Our team has tinted tens of thousands of vehicles.
Field Trips
You will go to a Top 12 retail facility where you can see a window tint bay set up for maximum efficiency.
Sales Training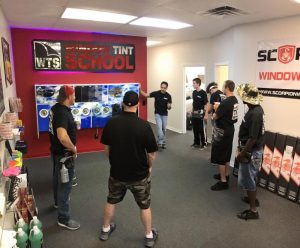 Since a heat lamp display is critical to upselling better window tint, you will experience one in person. We will teach you proven upsell techniques to help you maximize your profits and allow customers to have better heat-rejecting films.
Sign Up For Window Tint School Training Today!
As you can see, the list of reasons to come to our dedicated school is enormous. If you have always wanted to learn how to tint, we are the place for you. Maybe you are already tinting vehicles, but you want to be faster and more efficient. Our skilled team will take you to the next level, dramatically increasing your production level and quality of workmanship.
For more information about the Window Tint School in Jacksonville, Florida, click HERE.