Students have come to the Window Tint School in Jacksonville, Florida, to learn and refine their window tinting skills. We not only use the latest products and techniques, we offer our clients solutions to help them land the tint jobs that keep them employed. One of these solutions is our Heat Lamp Display.
What Is It?
Our Heat Lamp Display is a wall-mountable display that interactively demonstrates several different aspects of the tinting solutions that a retailer might offer. The display includes high-resolution lifestyle graphics that grab customer's attention and gets someone to start asking about window tinting. The Heat Lamp Display provokes discussion about the different types of films that are available. These films may differ in their light transmission capabilities or their thermal barrier properties. A display is the first step in dramatically increasing your tinting profits.
The Tint School offers five different displays. You can pick a size or the features that fit your space and your clientele's needs. We can even design a custom display for you – all you have to do is ask.
Thermal Barrier Properties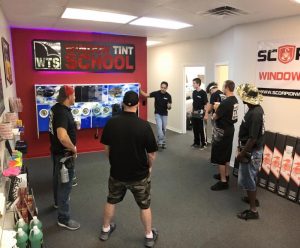 More and more people are tinting their windows to protect themselves and the interiors of their vehicles from UV exposure. Being able to demonstrate the ability for a film to block UV is easy with the high-power heat lamps in the display. You can show a stock piece of glass, a tinted factory piece, a conventional darkening tint, then a UV-blocking tint. The customer can experience the amazing performance differences for themselves. You will never use the dreaded "Trust me" phrase again!
Light Transmission
Different films naturally allow different amounts of light to pass through. From the lightest safety films to the darkest of "limo tints," and even the infamous "double limo" – letting your customer see how the film darkens the interior of the vehicle and experience the view from inside the vehicle dramatically assists in the film selection process.
Good, Better And Best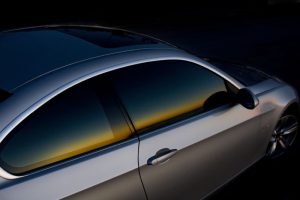 Many window tint clients are unaware that there are different brands, different features and different film qualities. Having different films that look the same on display, with easy-to-understand pricing structures makes it easy for the client to choose where they want to invest. Some people tint for looks; others tint for performance – they can decide where they fit. That eliminates the chance of your starting off by guessing what price range they want to be in.
If you are tinting two to three cars a day, the Heat Lamp Display can pay for itself in as little as a week. It dramatically speeds up the qualifying process and increases your average ticket price. Contact us here for details.